All About Cremation Ashes
How Are the Ashes Created?
During this decision process, it is not uncommon to have some very specific questions about the ashes of your loved one. Some of the most common questions are:
What conditions are necessary to create ashes?

What are they composed of?

Are they really the earthly remains of the deceased?

What are other people doing with ashes?
While it may sound cliché, there truly is no such thing as a stupid question when discussing cremation. In order to ease the decision making process and bring you peace of mind, let's explore the answers to these questions, beginning with details of the cremation process that produces the ashes and concluding with the final disposition of your loved one's cremated remains.
The Cremation Process:
In the past, human ashes were created by burning the body of a deceased on an exposed wooden funeral pyre. The cremation process has evolved considerably over the centuries, however, and today human ashes are created using a more advanced process. The modern cremation process uses large, high-powered furnaces called cremators which are found in crematories and are fueled by gas or propane which generates fire that reaches a temperature of around 1500-1900°F. The searing heat is sustained within the retort (cremation chamber) because of its thick insulation, typically involving heat-resistant refractory bricks. The floor is likewise made of very specialized masonry materials that are designed to withstand exposure to high temperatures. Modern cremators have a number of digital controls which allow attendants to monitor the cremation process as well as become immediately aware of any temperature fluctuations that could disrupt the cremation process.
By law, the body of the deceased is placed in a container such as a cardboard box or special caskets known as alternative containers prior to cremation. Using an alternative container will add dignity to the family or public viewing of the deceased that may take place prior to cremation. These alternative cremation caskets are designed to quickly and thoroughly cremate leaving little residual ash. The human body is primarily composed of water, carbon, and bone. When placed in the retort, the high temperature of the fire effectively vaporizes all the organic matter (tissues, organs, etc.) in the body through vaporization and oxidation. It also causes all the water in the body to evaporate. Gases (largely form carbon and sulfur) and water vapor are released through the furnace exhaust system. Typically, the only remains after the cremation process is complete are the fragments of the bone. The time required for the cremation process will vary depending on the heat intensity of the particular cremator being used and the size of the body. Generally, the cremation process ranges anywhere from two to two and a half hours.
After the cremation process is complete, the bone fragments are allowed to cool for a period (usually 30 minutes to an hour) before being swept out of the retort and passed through a magnetic field to extract any lingering pieces of metal that remain (such as tooth fillings or surgical implants or casket parts.) Pacemakers must be removed prior to cremation because they can be explosive. The fragments are then processed either by hand or through the use of a special machine that crushes them, reducing them to dense sand like ashes.
What Exactly Are Ashes Comprised Of?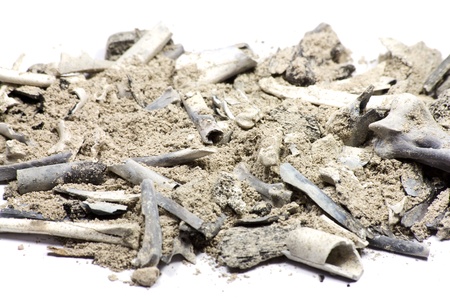 The processing of the fragments generates a uniform, pale grey to dark grey powder which is usually similar in texture and appearance to coarse sand. The cremated remains of an adult male will usually weigh around six pounds while the remains of an adult female will be closer to four pounds. The height of the deceased rather than their weight has a strong correlation with the weight of the ashes produced through cremation.
Although cremated remains are commonly called ashes, in truth they are comprised of pulverized bone fragments. As was previously mentioned, the cremation process destroys all traces of organic, carbon-based matter and all bodily fluids evaporate and escape through the cremator's exhaust. Since absolutely no organic material remains after cremation, human ashes do not present any sort of health hazard to the living or the environment. The extreme heat of cremators also means that little to no traces of the cremation casket or container (regardless of the material) will remain to mingle with your loved one's ashes. There may however be some minor traces of materials that were with the body during cremation such as implants, fillings, coffin fittings, and so on, but these will most likely be detected and removed when the ashes are passed through the magnetic field after processing. The only thing remaining of the human body after cremation is part of the skeletal structure and occasionally small amounts of salts and minerals.
The human skeleton is composed mostly of carbonates and calcium phosphates. These elements give bone its extraordinary strength and durability and allow it to survive the intense heat required for cremation when all other body tissues are destroyed. In addition to these compounds, it is very common to find trace elements, particularly metals, in bone fragments. These metals are absorbed by the bones throughout an individual's lifetime and remain in the skeleton after death.
Interestingly, the exact percentage of certain elements within the cremated remains varies according to the individual. No two samples of human ashes will be precisely the same in terms of elemental composition. This is due to the fact that a multitude of environmental factors can influence absorption. For instance, highly industrialized areas that experience acid rain will have a lower water pH. This lower pH allows for elements including copper, lead, and cadmium to potentially enter the drinking water and thus be ingested by people residing in the area. For similar reasons, people of lower socio-economic status who live near factories experience increased exposure to heavy metals. These trace elements are then absorbed by the skeletal system and will later be present in that individual's cremated remains.
Diet can also influence the elemental composition of human ashes. For example, people who follow a vegetarian diet are likely to have higher levels of the element strontium in their ashes. Some metals are actually critical to a human's survival and must be ingested regularly including chromium, manganese, nickel, cobalt, and iron. The necessity of these metals is precisely why most commercially available multi-vitamins include them.
Other elements that could be present in human ashes in varying levels include arsenic, lead, silver, potassium, lithium, selenium, and vanadium.
The variability of the elemental composition of human ashes means that each sample of cremated remains is entirely unique. Although all that remains of a loved one after the cremation process are bone fragments, which are then processed into ashes, these ashes have a very special elemental signature that identifies them as belonging to your loved one and no one else. All of the unique habits and environments experienced by your loved one during their lifetime leave a distinct elemental fingerprint on their skeleton which is then present in their ashes after the cremation process.
What Do People Do With the Ashes?
There are a wide range of options for cremated remains, including interment in a cemetery, storage in a columbarium, scattering, preservation in an urn, and even incorporation into jewelry and art. The beauty of cremation is that it allows you the freedom to memorialize your loved one in almost any way that you prefer.
You may choose to simply take the urn home with you and keep it on display in your home. Many families carefully select a highly visible place to store the urn. Knowing that the cremated remains of a loved one are always nearby can be a great comfort after losing a loved one.
If you choose instead to bury the urn, this can be easily arranged at cemeteries. Generally a small monument is used to mark the location of the buried urn, which also acts as a place for survivors to connect with the deceased. You can also place the urn in a cremation monument or columbarium, a mausoleum like structure filled with small compartments for storing cremated remains. Some people prefer these options because it provides an easily accessible focal point for remembrance of their loved one.
An increasingly popular option is to scattering the cremated remains. Friends and family can gather at a location that held special meaning for the deceased and scatter the ashes there. Examples include: a nearby wooded area, a mountain, a river, the ocean, and so on. Additionally, there are now a number of services that offer to scatter a loved one's cremated remains in special locations or in a very specific manner such as scattered from an airplane or incorporated into fireworks. One company will even send a small sample of the remains into space. Scattering cremated remains can be a very unique and beautiful way to honor the life of a loved one.
A creative and innovative way to honor your loved one's memory is by making their cremated remains part of a special object or piece of art. A portion of the cremated remains can actually be incorporated into crystal or other keepsakes which allow the family to carry a small part of their loved one with them at all times. New technology also allows for the creation of cremation diamonds which are genuine diamonds generated from a small portion of the cremated remains. These gems are a beautiful way to celebrate a life and often become family heirlooms. Cremated remains can even be mixed with paint and used to create a portrait of the deceased or mixed with materials to create a memorial sculpture. And even more options for final disposition of ashes continue to become popular every day.
"Ashes to ashes and dust to dust," is a phrase often uttered during funeral services. Although it is derived from a verse in the Christian Bible, its message is fundamental – from dust we arise and to dust we must eventually return. It is a somber declaration to be sure, but knowledge of that process can certainly help lessen the burden and bring peace of mind when experiencing the loss of a loved one.
Be Sure To Check Out Our:
Cremation Urns For Ashes (Click Here)
Cremation Jewelry That Holds Ashes (Click Here)
Monuments That Hold Ashes Inside (Click Here)
There are no products matching the selection.