Fingerprint Jewelry Charms FAQs
Fingerprint Jewelry
All of our Fingerprint Jewelry is custom-made by hand here in the United States. Once the fingerprint is received a digital version is created. The artist will then focus on the most clearly defined and interesting portion of the best fingerprint, crop that area and digitally clean the fingerprints edges for a clean and crisp template. We keep a digital copy of the fingerprint on record forever, so that you can order jewelry in the future using the fingerprint that we have on file.
The digital fingerprint is then transformed by a computer assisted manufacturing device that lets the jeweler create a wax mold of the image. Once the mold is made, the jewelry designer uses the lost wax casting method to create the personal fingerprint charm.
Is a Fingerprint Kit Necessary?
We do not require that our customers use our fingerprint kit. We do, however, recommend that you use cardstock instead of printer paper simply because it is easier to use and leads to a good clean rendering of the fingerprint. An ink pad is ideal for this application. If you prefer, we will send you our free kit that includes the ink strip, the fingerprint card, and the instructions.
How Do I Take a Print?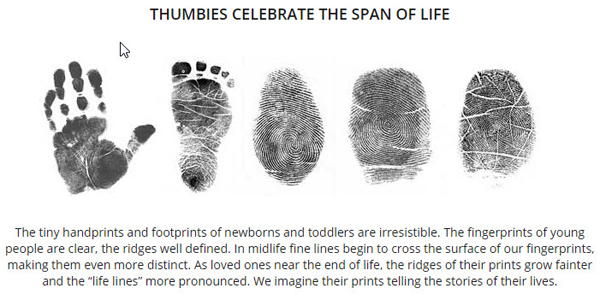 It is important for our customers to remember that the quality of their keepsake is based on the quality of the fingerprint that we receive. Consider the following tips when taking the fingerprint:
Clean and dry the finger. Each fingerprint contains a very unique pattern of arches, whorls, and swirls. The quality of the fingerprint being taken will be affected by both damp and dirty fingers.
Apply the ink. Place the ink pad or ink strip on a hard and flat surface. Tap the finger to be printed in the ink a couple of times and ensure that the fingerprint is covered evenly and has an optimum amount of ink.
Make the fingerprint. Place the fingerprint card or piece of cardstock on a flat surface. Tap the inked finger onto the surface of the card, taking care to apply firm pressure, but not overly hard pressure. Too much pressure will cause the print to smudge and smear. Continue this process several times until you are happy with the quality of at least one of the fingerprints.
Examine the fingerprints closely. Remember, fingerprint quality is important in the creation of your keepsake. If you send us a fingerprint with a clarity issue or other problem, it will reduce the fine details on your keepsake. If the fingerprint does not clearly depict the lines and details of the donor, we won't be able to use it!
Scan. If you wish to send us a fingerprint electronically, you will need to scan the fingerprint at a high resolution. You can use a desktop scanner for this purpose. Make sure that you scan the fingerprint using grayscale at 600 dpi. Do NOT scan in black and white. Next, save the fingerprint file as a JPEG/jpg. It's important that you do not attempt to resize the image. Once you save the image, you can then email it to us along with your order number and the full name of the fingerprint donor.
What Is the Procedure for Collecting Paw and Nose Prints?
The most convenient way to capture a paw or nose print is to take a high resolution digital photo and email it to us along with your full name and order number. To obtain the best results please turn off your flash and use a high resolution setting. The image must be clear and in focus to capture the unique details. We generally tell our customers to take several photos and then choose the best one. If you aren't sure what resolution setting to use, we recommend using the highest one, and JPEG/jpg typically works best.
If you prefer to take an ink print, it's important that you choose child-safe ink or a non-toxic black ink pad.
Do I Have to Use a Fingerprint?
We accept many types of prints. We can work with a fingerprint, thumb print, hand print, foot print, nose print, paw print, and even a hoof print. The thumb usually provides the best fingerprint. When a large print like a hand or foot is used much of the detail is lost when we have to shrink it down to fit on a piece of jewelry.
Why Do People Purchase Fingerprint Jewelry?
Our customers purchase fingerprint jewelry for so many different reasons. Some customers want to mark a special event like a marriage or a birthday. Others simply want a meaningful keepsake or to present it as a special gift. These keepsakes are unique one-of-a-kind works of art.
How Long Does It Take to Create Fingerprint Jewelry
Our jewelry artisans require up to two weeks from receipt of the fingerprints to create the priceless keepsake. After you place your order, you will receive your ink print kit within three to four business days unless you select the $25.00 Overnight Shipping Option.
Can I Make a Fingerprint Jewel for an Infant?
Infant and young children do not develop mature fingerprints until the age of 3 so we suggest using a handprint or footprint to make a baby keepsake.
What Types of Precious Metals Do You Offer?
We can create your priceless keepsake in Sterling Silver, 14k White Gold, 14k Yellow Gold and Noble Bronze.
Can You Include Engraving on My Keepsake?
Engraving is free. The amount of space allowed for engraving is dependent on the size of the keepsake that you order. Our standard charms allow for two lines of engraving and each line can accommodate up to ten characters. Each piece of jewelry has different engraving limitations. You will find this information in the description of each piece as well as a text box for you to type in the engraving text.
Can I put a Charm on my own Bracelet?
Yes, however, make sure to request that your charm comes with a jump ring instead of the bail that usually goes on for a pendant. Any jeweler will be able to attach the charm to your bracelet with the jump ring. If you purchase one of our beautiful memory bracelets for your charm, it will have a jump ring and will arrive already attached.
Can I Add Birthstones to the Keepsake?
Many customers choose to include synthetic or genuine birthstones and precious stones on their keepsake. You can select from our available stones when placing your order.
Can Fingerprint Jewelry hold Ashes?
Yes, Cremation Solutions offers the Phoenix Collection of Fingerprint Jewelry. This line of jewelry has the ashes contained in a special resin and is quite attractive. We mail you a collection kit so that you can send us the ashes. We ship the ash collection kit on the day of your order.
How Should I Care for My Fingerprint Jewelry?
Gold jewelry requires very little care, but rubbing them with a jewelry cloth will keep it clean and lustrous. If you order sterling silver jewelry, you can expect this type of metal to dull or tarnish over time, particularly if you don't wear it regularly. Your body's natural oils will keep it looking lustrous if you wear it frequently. If your piece does tarnish, simply clean it with a jewelry cloth to restore it to its original lustrous shine. Remember, if your jewelry has stones, you should not submerge it in a tarnish remover. It's better to use a cream polish to carefully clean the metal or use a jewelry cloth.
What If I Can't Find an Answer to My Question Here?
If you require more information or clarification about our product offerings, please contact us. We are more than happy to provide you with more information. Please call #877-365-9474 or send an email to info@cremationsolutions.com.
Mail the prints to:
Cremation Solutions
311 Route 313 West
Arlington, VT 05250


We look forward to presenting you with your unique and precious keepsake jewelry!
Click here to go back to fingerprint jewelry
There are no products matching the selection.